In order for us to realize how significant, indeed how imperative it is for us to be truly thankful to God and to count our many blessings, it is important for us to briefly survey the past and examine the vicissitudes through which Salem has passed.
Salem has a colorful history.  It is often said that Baptist multiplies by division.  This is so true of Salem and we are not ashamed of this.  Salem, like Zion, is of British origin, and this makes her order of Service and decorum significantly different from the other Baptist Churches, which are of American origin.
In January 1833, even before the abolition of slavery, the Baptist Missionary Society in London sent the Rev. Mr. Burton to The Bahamas to establish a religious work here.  At that time, there were twenty (20) Baptist Churches in the Bahamas and these were of American origin. Mr. Burton was succeeded by a number of Ministers from England.
In 1878, the Rev. Mr. Davy, who was at that time Pastor of Zion, retired and was succeeded by the Rev. Daniel Wilshere in March of the same year.  The Rev. Wilshere became ill with a heart and throat ailment in 1888 and went to New York to undergo surgery. The Rev. Charles A. Dann arrived in 1889 to relieve Mr. Wilshere for one year.  Rev. Dann used his influence to unseat Mr. Wilshere and he eventually succeeded. When Mr. Wilshere returned after having surgery, a serious rift developed between himself and Mr. Dann. In fact, they actually came to blows.
The Rev. Dann returned to England in 1890 and was able to gain the support of the British Missionary Society.    In August 1890, Mr. Wilshere tendered his resignation to the British Missionary Society, and on the 18th of August, 1890, he and Mrs. Wilshere left for New York.
On October 28, 1890, the British Missionary Society passed a resolution that:
Mr. Wilshere would be allowed to return to the Bahamas ONLY if he lived someplace other than in Nassau,

That he should be Superintendent of the Bahamas Baptist Mission and Pastor of Zion and

That Zion is allowed to call and support its own Pastor.
Zion called Rev. Charles Dann.  Rev. Wilshere returned to Nassau from New York in November 1890 and assumed his duty as Superintendent.  He wanted to live in Fox Hill. His supporters left Zion and he met with them for Services under a tree at McCullough Corner and East Street. McCollough Corner was called "New Road" and the Church was called New Road Zion Baptist Church. This group was the nucleus of Salem.
The property on Parliament Street, which was the site of the old livery stables, was purchased.  With the assistance of the Family Island Churches, Salem Union Baptist Church was built. The foundation stone was laid on the 28th March 1892, by Mrs. Charlotte Wilshire, and on the first Sunday, the 4th February 1894, the doors of Salem opened for worship.  Rev. Wilshere lived at the back of the Church.
Rev. Wilshere was assisted by a jeweler, the Rev. J. Demeritte, a Bahamian.  Later Dr. Bertram Maura of St. Andrews the Kirk, was invited periodically to preach.
Mrs. Charlotte Wilshere died on the 14th October 1901 and was buried in the Churchyard at Mt. Carey Union Baptist Church, which she had helped to raise the money to build.  Later, upon the death of Mr. Rigby, his housekeeper's husband, Mr. Wilshere married his housekeeper, Mrs. Rigby.
Apart from pasturing Salem, Mr. Wilshere superintended Mt. Carey, Fox Hill, Mt. Zion, Gambier and Adelaide and Churches on Long Island, Exuma, Eleuthera, Andros, Ragged Island, Cat Island, and San Salvador.  He brought a boat, the "Experience," which he used to make his visits to the Family Islands.
Mr. Wilshere will also be remembered for having made the Bahamas Baptist Union the first Baptist Body to carry on Foreign Missions work.  In 1912, during the development of Florida when many Bahamians were working there, Mr. Wilshere, expanded the Bahamas Baptist Union into the United States.  The first Church established was Mt. Olivet Union Baptist Church in Miami, which was pastored by the Rev. S. A. Sampson. Within twelve years, there were seven (7) Union Churches in the United States, the others being St. Matthew's Miami, St. Mark's, Miami, St. Paul's Miami and one Church on Ojus, one in South Miami, and one in West Palm Beach.
Mr. Wilshere went to be with the Lord on September 1932, leaving behind a rich legacy of twenty-eight (28) Churches and one thousand five hundred members.  At the time of his death, Salem had two (2) Deacons – Deacon Elijah Francis who returned home from the United States in 1929 and Deacon Milton Russell, the father of Sis. Coral Huyler.
REV. ENOCH BACKFORD, Sr.
The Rev. Enoch Backford, who was Assistant Pastor at St. John's in Miami, returned to the Bahamas in 1926, in the niche of time, and served as Assistant to Rev. Wilshere for six years. Upon Mr. Wilshere's death, Rev. Backford became Acting Pastor and was made Pastor on the last Sunday in January 1933.
Serving with Rev. Blackford in the Pulpit were Deacon Elijah Francis and Deacon Milton Russell. Later, Bro. Richard Albury, Bro. Martinborough, Bro. Joseph Chase, Bro. Houston Nottage, Rev. Samuel Archer, Deacon Lawrence Farrington, Deacon Joseph Blake, Dr. R. E. Cooper, Sr., Rev. Earle Francis, Rev. Carl Francis, Rev. C. W. Saunders, Rev. Philip Clarke, Bro. Cedric Farquharson, Bro. Enoch Backford II, and Rev. Baltron B. Bethel.
In 1936, with Rev. Backford's help and assisted by the National Baptist Convention U.S.A. Incorporated, Dr. R. E. Cooper, Sr., Dr. H. W. Brown, Dr. A. S. Colebrook and Rev. E. C. Grant were sent to the American Baptist Theological Seminary for training.  Dr. Cooper went from Salem and upon completion of his training in 1939, he returned to Salem but left in 1940 to organize the Mission Baptist Church. In the early sixties, Rev. Philip Clarke became Assistant Pastor, and held that position up to January 1968, when he left to further his studies in Florida.  On the 27th October 1968, the Rev. Dr. C. W. Saunders has ordained a Minister and was made Assistant Pastor on the 1st November 1968.  Like Rev. Backford, Rev. Saunders served as Assistant Pastor for six (6) years.
During Rev. Backford's tenure as Pastor, he organized the Women's Missionary Society, the Men's Fellowship and the Baptist Training Union, apart from organizing the Exuma District Convention and establishing Churches at Kemp Road, Coconut Grove, The Hermitage and McKann's, Long Island.
Our Church building on Parliament Street became inadequate for the needs of the Church, so the site on Taylor Street, on which the first Church of God of Prophecy stood, was purchased. The Ground-Breaking Ceremony was held on the 19th June 1959, and the Cornerstone was laid on the 4th of December, 1960.
The late Arthur Backford was the Architect and the late Rev. L. D. Cox, the late Br. George Rolle and the late Deacon Amos Brown were members of the Building Committee.  The edifice was dedicated on the 1st of May, 1967.  Rev. Backford retired at the end of February 1974 after forty-one (41) years of faithful service to God.  
REV. DR. C. W. SAUNDERS
On the 11th May 1974, the Rev. Dr. C. W. Saunders was inducted as Pastor. During his tenure we saw the Children's Choir organized, Youth Day revived, Women's Day, Ushers' Day and Choir Day established, Ministers, appointed for specific areas in the Church, the Evangelism Team commissioned and the Director of Evangelism appointed, the Rev. Ian Bethel received a four-year Scholarship to the American Baptist College, Rev. Reno Smith was awarded a fifty-percent Scholarship to the same institution, financial assistance was given to the Rev. Leslie Curtis and Bro. Stephen Humes to attend College, Sis. Patrice Bowe Thompson was awarded a fifty-percent Scholarship in Music at Bishop College, the Dorcas Society was organized, picture windows were installed, a Bulletin Board erected and the garage was turned into the Pastor's Office which was occupied in 1977.  Three (3) parcels of land, which make up our two parking lots were purchased at a total cost of fifty-three thousand ($53,000) dollars. Later, two (2) additional Parking Lots were purchased from the Bethels at a cost of one hundred thousand ($100,000) dollars used temporarily for additional parking. But on the 20th May 1990, following a decision by the Working Committee of the Church, the ground was broken on these two (2) lots for the erection of a new edifice which was to be built exclusively by the members of Salem.  The Church was dedicated on the 12th of April, 1992.  The Annex to the Church, which contains a modern Pastor's Office and additional Offices was built and dedicated on the 30th June 2002.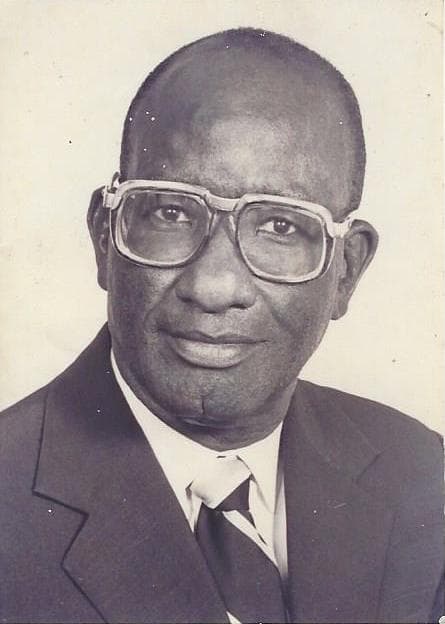 Other accomplishments during Rev. Dr. Saunders' tenure are:
Salem's Credit Union was established in 1975.

Brothers Gregory Bethel, Stephen Duncombe, Garth Rolle, and Heuter Rolle were appointed Junior Ministers.

The Sunday School was restructured into Divisions.

The late Bro. Bernard Rolle, the late Bro. Philip Smith, Bro. Gary Munnings and Sis. Marina Dean was made Evangelists.

Bro. Thomas Cooper, Richard Clarke, Rodger Demeritte, and Simeon McPhee were made Deacons.

Rev. Dr. Edris Bowe and Evangelist Nathalie Taylor joined the Preaching Team.  Evangelist Taylor was a member of this Church but later returned.

The old Church was named the Educational Building and set aside for meetings.

Salem's Academy of Excellence was opened and later closed in …

A Radio Programme (Open Doors) was started.
The following portfolios were given to Ministers:
The Youth Department –  Minister Heuter Rolle

Property Management & Busing – Minister Gregory Bethel

The Sunday School -The Rev. Dr. Baltron B. Bethel

The Men's Department – The Rev. Cedric Farquharson

The Women's Department – The Rev. Dr. Edris Bowe

Minister of Evangelism – The Rev. Garth Rolle
On Sunday, the 6th July 2008, Ministers Heuter Rolle and Garth Rolle were ordained to the Sacred Gospel Ministry and on Sunday, the 28th December 2008, the following five (5) committed young men were ordained Deacons:  Brothers, Robert Moncur Sr., Kevin Brown, F. Lancaster Rolle, Cadwell Taylor, and Stephen Beneby.
Bro. Raymond Rolle became a Licensed Minister on August 7, 2011.
TRANSITION
In a letter addressed to the church dated January 23, 2012, Rev. Dr. C. W. Saunders advised that he would demit office effective May 31, 2013. Dr. Saunders retired, having given thirty-nine (39) years of faithful, dedicated and committed service to Salem.
REV. HEUTER B. ROLLE
On Wednesday, December 12, 2012, the Church elected the Rev. Heuter B. Rolle and on Sunday, June 2, 2013, he was inducted as Salem's fourth (4

th

) Pastor.  

Shortly after taking over the pastorate, various ministries of the church were restructured and/or implemented:

Under the leadership of Sis. Sharmaine Sinclair, Salem's Missionary Union's name was changed to Salem's Women in Ministry (S.W.I.M) and the Circles names were also changed as follows:  Sybil Backford Circle to "Women of Vision", Marion Farrington Circle to "Christians Encouraging Others (CEO), Miriam Bullard Circle to "Lamplighters", Jane Brown Circle to "Women of Purpose", Diana Francis Circle to "Women of Substance" and Agnes Smith Circle discontinued.

Women on the Move (Young Women) was discontinued and merged with the other Circles.

Salem's Men's Fellowship was changed to Salem's Mighty Men's Ministry under the leadership of Min. Raymond Rolle.

The Youth Department, under the overall leadership of Min. Gregory Bethel was expanded to include Kids In Action, Pulse Youth Church, Junior Church, and Impact Young Adults.  

The Media Ministry was expanded from just being audio to include visual, photography, streaming, webpage and social media.

In 2016, Rev. Dr. Edris Bowe was appointed Director of Pastoral Care

To assist in the day-to-day running of the Ministry, Rev. Garth E. Rolle was employed as Pastor of Administration and Bro. Corey Elnathan Rolle was employed as a full-time Youth Director to assist with our outreach ministry in the local schools.
MINISTERIAL APPOINTMENTS
Rev. Cedric Farquharson – Minister responsible for Media (2013)

Rev. Dr. Edris Bowe – Director of Pastoral Care (2016)

Min. Gregory H. Bethel- Minister responsible for Youth & Young Adults (2017)
THE DIACONATE
Following an intense training by Min. Henry Sears, the following persons were ordained to the Diaconate on Sunday, February 1, 2015:  Bro. Wellington Forbes, Bro. Freddie Major, Sis. Elaine Hinsey & Sis. Lucille Flowers.
OUTREACH
In order to carry out the mandate of the Church and in accordance with Pastor Rolle's vision, Salem adopted an area square bordered by Ross Corner on the South, East Street on the East, Lewis Street on the North and Market Street on the West. There are 21 streets within that square and we have established 13 Teams who conduct prayer walks, provide back-to-school supplies, Christmas gifts, food, clothing and spiritual guidance on a consistent basis.
SALEM'S CANCER CARE MINISTRY
In May 2015, our Pastor was invited by The Cancer Treatment Centre of America to participate in a Cancer Care Leadership Training. As a result of this training, 14 members of Salem were trained and certified as Cancer Care Ministers thus enabling Salem to not only minister to her members but the community at large. The initial Ministry comprises:  Min. Henry Sears, Dr. Rev. Edris Bowe, Sisters Sandra Sears, Stephanie Ferguson, Carolyn Nairn, Vernie Rolle, Theresa Moncur, Elaine Hinsey, Monique Rolle, Helen Ferguson, Curleen Clarke, Prescola Rolle, Pamela Adderley & Renee Hamilton.
ANNUAL EVENTS
The following events were added to our Church Calendar:

Annual Leadership Conference (January)

Annual Vision Casting (February)

Family Fun Day (April)

Annual Honorees' luncheon (November)
CAPITAL IMPROVEMENTS
Extensive renovations to the Educational Building commenced in January 2017, including renovating Female Bathroom and erecting a commercial kitchen, Men's Bathroom, installation of a Sound Booth, purchasing of new chairs and additional banquet equipment.

On the occasion of the Church's 124th Anniversary, this building was rededicated and renamed "

The C. W. Saunders' Fellowship Hall

".

We, as members of Salem,  are thankful to God for His bountiful blessings and a goodly heritage.  We, like Paul, will continue to press toward the mark of the high calling of God in Christ Jesus, assured of the fact that one day,

THE CHURCH MILITANT WOULD BECOME THE CHURCH TRIUMPHANT

.